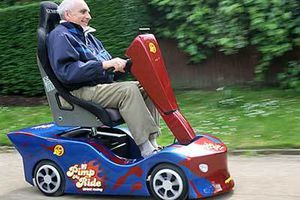 A short story as an introduction. A good friend of mine was in the army and when he came back he had been hurt so bad that walking long distances wasn't an option anymore. I know he was hurting and not just physically, mentally too. And there was nothing me or any of his other friends and family could do about that. I think the mental pain was much tougher than the physical one as he was sad about never going to be able to walk or play as he used to.
Sure there are wheelchairs and stuff like that but the most basic things like taking a walk down to the beach which is just a few miles from his home were unsustainable. Something we've done since we were kids, he could not do anymore. As his friends and family, it was painful to see him so angry about what had happened and I think he felt that he was going to need a lot of help through the rest of his life. Can be very hard to admit at the age of 30 when you think your life has just begun.
How we solved a few problems
When you're hurting like that just a few small changes that can improve your everyday life can do dramatic changes on how you feel and what you think you're capable of. I showed him a few videos of disabled people, far more disabled than he is.
These boys and girls were living life to the fullest doing parachute jumps, racing car drivers, swimmers, and they are even to those not disabled a big inspirational source.
What he missed the most was to be able to take care of himself when it came to going to the store if he wanted to without a car, taking those walks down to the beach and so on.
After that, I showed him these electric scooters that I had found which were built for people with mobility problems here. We sat a good few hours researching and looking at different models. At first, he wasn't as intrigued about getting one of these scooters as he complained about how they were for old people. But after a thorough informational search, he was quite amused about how these products might actually make him able to complete more of his day to day tasks like:
Shopping
Getting around outdoors
Hiking (which he loves)
I finally got him to buy one of the cheaper models to try out and now a few weeks later when we've assembled it and taken it for a few test-rides he is stoked about all the things he can now accomplish thanks to this simple electric little aid vehicle. It has been just a blessing for him being able to ride along when we go down to the beach. He is very happy with his choice and you can really understand that from seeing him smile and laugh again.
Sometimes life knocks you down. But why stay there? Get up and get going, find solutions to problems and live your life to the fullest!